[ad_1]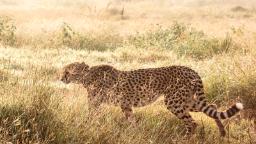 CNN
 — 

A Namibian cheetah relocated to India last year as part of plans to reintroduce the species on the subcontinent died on Monday from a kidney infection, according to Namibia's Cheetah Conservation Fund (CCF).
The deceased cheetah, named Sasha, was one of eight brought from Namibia to India's Kuno National Park in the state of Madya Pradesh last September as part of a government plan to re-home 50 of the big cats in India over the next five years.
Sasha began to show signs of fatigue and weakness on Wednesday, having developed a kidney infection in January, Indian state broadcaster Doordarshan News reported, citing a press release issued by the Madhya Pradesh forest department.
Local veterinarians worked with Namibian and South African experts to treat Sasha but were ultimately unable to save her, the press release stated.
According to records released by the CCF, Sasha's creatinine levels from a blood test in August 2022 were already high, indicating potential kidney-related problems prior to her arrival in India.
"Kidney disease and renal failure can be especially detrimental to cheetahs, which are delicate creatures by nature. Although captive cheetahs are more prone to these conditions than their wild counterparts, the exact reasons are not fully understood," the CCF tweeted.
"We will continue to research kidney disease in cheetahs to help ensure better early detection and treatment," the CCF added.
The other cheetahs in the park are healthy, according to Doordarshan News.
Cheetahs were declared extinct in India over 70 years ago, but India's Ministry of Environment, Forest and Climate Change hopes they'll once again roam the country's national parks.
The group that arrived from Namibia in September consisted of three male and five female adult cheetahs, including Sasha, according to a news release from the CCF.
Each cheetah was vaccinated, fitted with a satellite collar and kept in isolation at the fund's location in Otjiwarongo, Namibia ahead of the trip, according to the release.
The animals chosen were selected "based on an assessment of health, wild disposition, hunting skills, and ability to contribute genetics that will result in a strong founder population," the organization said.
The cheetahs were moved from quarantine enclosure to acclimatization zones in November last year and later released into the park's hunting enclosures.
In February, a dozen more cheetahs – seven males and five females – were brought from South Africa, which has signed an agreement with India to introduce dozens of cheetahs to the country over the next decade.
There are now less than 7,000 cheetahs left in the wild, according to the WWF.
[ad_2]

Source link