[ad_1]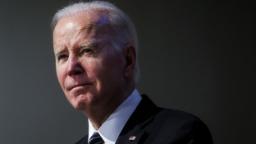 CNN
 — 

President Joe Biden on Saturday notified Congress of his decision to authorize an airstrike in Syria this week against what the US said were Iranian-affiliated facilities.
The US airstrike came after a suspected Iranian drone struck a facility housing US personnel in the country, killing an American contractor and wounding five US service members.
The strikes, Biden said in his letter to Congress, were made, "in order to protect and defend the safety of our personnel, to degrade and disrupt the ongoing series of attacks against the United States and our partners, and to deter the Islamic Republic of Iran and Iran backed militia groups from conducting or supporting further attacks on United States personnel and facilities."
The president added that the US strikes "were conducted in a manner intended to establish deterrence, limit the risk of escalation, and avoid civilian casualties."
Saturday's notification is a routine part of the War Powers Act, which requires the president to notify Congress within 48 hours of military actions. The letter was sent to both House Speaker Kevin McCarthy and President Pro Tempore of the Senate, Sen. Patty Murray.
The strikes are likely to increase tensions with Iran, with which the proxy groups are aligned, though Tehran isn't always involved in directing attacks that they conduct.
The US has already sanctioned Tehran for providing attack drones to Russia to use in the war in Ukraine. And on Thursday, Chairman of the Joint Chiefs of Staff Gen. Mark Milley reiterated US concerns that Iran has the potential to produce enough fissile material for a nuclear weapon in less than two weeks and manufacture one within months.
Brig. Gen. Patrick Ryder, the Pentagon spokesman, emphasized to reporters Friday that the US is not seeking conflict with Iran, but said the strikes "were intended to send a very clear message that we will take the protection of our personnel seriously and that we will respond quickly and decisively if they're threatened."
[ad_2]

Source link