[ad_1]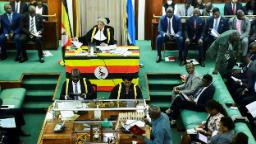 CNN
 — 

Ugandan lawmakers on Tuesday approved some of the world's harshest anti-gay laws, making some crimes punishable by death and imposing up to 20 years in prison for people identifying as LGBTQ+.
The new legislation constitutes a further crackdown on LGBTQ+ people in a country where same-sex relations were already illegal – punishable by life imprisonment. It targets an array of activities, and includes a ban on promoting and abetting homosexuality as well as conspiracy to engage in homosexuality, Reuters reported.
According to the bill, the death penalty can be invoked for cases involving "aggravated homosexuality" – a broad term used in the legislation to describe sex acts committed without consent or under duress, against children, people with mental or physical disabilities, by a "serial offender," or involving incest.
"A person who commits the offense of aggravated homosexuality and is liable, on conviction to suffer death," read the amendments, which were presented by the chairperson for legal and parliamentary affairs Robina Rwakoojo.
Opposition lawmaker Asuman Basalirwa introduced the Anti Homosexuality Bill 2023 to parliament, saying it aims to "protect our church culture; the legal, religious and traditional family values of Ugandans from the acts that are likely to promote sexual promiscuity in this country."
"The objective of the bill was to establish a comprehensive and enhanced legislation to protect traditional family values, our diverse culture, our faiths, by prohibiting any form of sexual relations between persons of the same sex and the promotion or recognition of sexual relations between persons of the same sex," Basalirwa said on Tuesday.
Lawmaker Fox Odoi-Oywelowo spoke out against the bill, saying it "contravenes established international and regional human rights standards" as it "unfairly limits the fundamental rights of LGBTQ+ persons."
And Ugandan LGBT advocate Frank Mugisha told Reuters that the law could lead to mass arrests of LGBTQ people and mob violence against them, leaving people scared of being outed.
"The last time the legislation was around, there were cases of suicide so, this time, this law is worse than the one that was here before because it has a death penalty and many people would be worried, many people would be scared," he said.
"We will go to all courts in Uganda. If need be, we will go to the international court as well but, we definitely have to go to court and challenge this law," added Mugisha.
Rights advocacy group Human Rights Watch (HRW) warned earlier this month that the law would violate Ugandans' rights.
"One of the most extreme features of this new bill is that it criminalizes people simply for being who they are as well as further infringing on the rights to privacy, and freedoms of expression and association that are already compromised in Uganda," HRW Uganda researcher Oryem Nyeko said in a statement that called on politicians in the country to "stop targeting LGBT people for political capital."
The bill is expected to eventually go to Ugandan President Yoweri Museveni for assent. Museveni last week derided homosexuals as "deviants."
Anti-LGBTQ+ sentiment is deeply entrenched in the highly conservative and religious East African nation.
Uganda made headlines in 2009 when it introduced an anti-homosexuality bill that included a death sentence for gay sex.
The country's lawmakers passed a bill in 2014, but they replaced the death penalty clause with a proposal for life in prison. That law was ultimately struck down.
[ad_2]

Source link