[ad_1]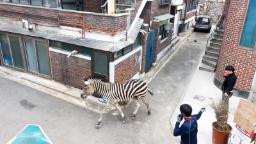 Seoul, South Korea
CNN
 — 

A male zebra broke loose in South Korea's capital on Thursday, trotting down busy roads and back alleys for hours before being tranquilized and returned to a zoo.
Videos on social media showed 3-year-old Sero galloping through the Gwangjin district of Seoul amid heavy traffic, strolling down narrow alleys in residential neighborhoods, and passing zebra crossings as it scuttled around the city.
Firefighters dispatched to the scene later herded the mammal to an alley, where it was tranquilized and brought back to the Children's Grand Park, its home in the east of Seoul.
According to the Gwangjin-gu fire station, officers received the first report at 3:43 p.m. about a zebra roaming free around the precinct.
As a team of fire officers drove to the reported location, they spotted the zebra running in the opposite direction, prompting them to give chase, an official from the station told CNN.
The officers blocked its escape route from a back alley with safety fences, fire trucks and police cars to wait for zoo officials to arrive.
He said fire officers refrained from using animal anesthetic at the request of the zoo.
A team dispatched by the zoo arrived about half an hour later to administer seven shots of muscle relaxant that eventually calmed the zebra down.
Officers loaded Sero onto the vehicle bound for the zoo at around 6:00 p.m., ending its rare excursion.
Both Sero's parents died of illness last year, and since then he's been displaying rebellious behaviors, Kim Jae-yun, an official at the zoo, told CNN. One time, he tried to pick a fight with a kangaroo next door, he said.
In 2005, six elephants also escaped from the same park, charging into restaurants and a school, leaving one woman injured.
The zoo is home to almost 3,000 animals made up of 350 species ranging from lions and giraffes to dolphins and exotic birds, according to its website.
[ad_2]

Source link