[ad_1]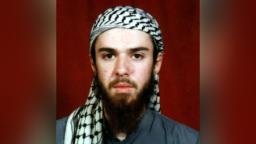 CNN
 — 

A Virginia man convicted of providing support to ISIS in 2015 was sentenced Thursday to serve an additional year in prison for breaking his release conditions after meeting multiple times with John Walker Lindh, the so-called "American Taliban" and sharing ISIS propaganda online in encrypted chats.
In 2015, Ali Shukri Amin pleaded guilty to providing support to ISIS – posting articles on how ISIS members could avoid detection in online communications and sharing instructions on how the terrorist group could use cryptocurrency for fundraising efforts, according to the plea agreement.
Amin, who was 17 years old when he pleaded guilty, served several years in prison before being released on supervision.
According to the government, Amin broke his release conditions when he met Lindh, a convicted felon, in person several times, communicated with him and others on an unmonitored device and shared and translated ISIS propaganda online.
One file stored on his device, which Amin attempted to share with others, according to the government, contained an ISIS propaganda video showing mass beheadings and attack instructions, prosecutors said.
"Now he has a network of like-minded convicted terrorists," prosecutors said, adding, "Mr. Amin continues to support ISIS" and "remains a danger to society."
Amin's attorney, Jessica Carmichael, told the court that Amin also had anti-ISIS material on his computer and said that his conversations with Lindh online were largely about job searches.
"We're talking about having dinner with John Walker Lindh three times," Carmichael said, noting that Lindh was also on supervision at the time of the meetings in 2021 and was being supervised by the same probation officer as Amin.
Lindh, who was released in 2019, was also on supervised release and subject to the same condition as Amin at the time of the alleged meetings, but has not been accused of violating those terms.
Amin told the court the government had used "selective quotes" that were out of context but said he regretted "my poor decisions."
"I will do better," he told District Judge Claude M. Hilton.
Hilton also sentenced Amin to a lifetime of supervised release.
[ad_2]

Source link