[ad_1]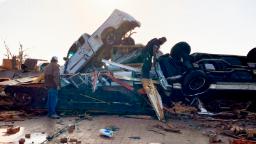 Mississippi Gov. Tate Reeves and state emergency officials are heading to hard-hit Sharkey County, on the west side of the state near the border with Arkansas and Louisiana.
Several state agencies are also "responding to the devastating tornadoes that swept through the state overnight," according to a press release from Mississippi Emergency Management Agency (MEMA). The agency said "life safety is the number one priority and damage assessments will begin soon."
"Just completed command briefing with our disaster response team," Reeves tweeted Saturday morning. "Devastating damage—as everyone knows. This is a tragedy. I am on my way to Sharkey County to be with the people first hit," he said. 
A FEMA team is also headed to the county, the Mississippi Emergency Management Agency (MEMA) said in a press release.
The 23 storm fatalities reported so far in the state are in Sharkey, Humphreys, Carroll, and Monroe counties. There are still "dozens" injured and at least four people missing, according to state emergency officials.
"Life safety is the number one priority and damage assessments will begin soon," MEMA said, adding that several state agencies are responding across Mississippi.
Transportation department damaged: While there are no reports of damaged roadways in the Sharkey County area, a campus for the Mississippi Department of Transportation has been significantly damaged, MEMA said.
The hub is located near the small city of Rolling Fork, which was ravaged by the storm.
"Some MDOT employees have damaged and/or lost homes in the Rolling Fork area," MEMA said. Despite that, "some of those with damaged homes reported overnight to keep the area roads clear and safe."
According to the statement, big trucks are being detoured around Rolling Fork due to low or damaged power lines. The power company is working to make repairs.
"Humphreys County is using its multipurpose building for shelter. The American Red Cross will set up a shelter at the Greenville Multipurpose Center. The Red Cross is also providing food, offering one thousand meals for breakfast, one thousand meals for lunch, and one thousand meals for dinner," MEMA said.
CNN's Nick Valencia and Jessica Jordan contributed reporting.


[ad_2]

Source link