[ad_1]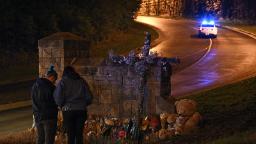 CNN
 — 

A more heartrending and quintessentially American scene is hard to imagine.
A human chain of children, hand-in-hand, shepherded by police officers, fled the latest school struck by unfathomable tragedy. On Monday, it was Nashville's turn to join the roster of cities made notorious by a mass shooting epidemic much of the country seems prepared to tacitly accept as the price of the right to own high-powered firearms.
The reality of what unfolded inside was inhuman, but it can unfortunately be imagined given the gruesome insider accounts that emerged from previous school shootings – in Uvalde, Texas, last year, or at Sandy Hook Elementary in Connecticut in 2012.
Evelyn Dieckhaus, Hallie Scruggs and William Kinney, all nine years old, were gunned down by a shooter armed with two AR-style weapons and a handgun, two of which police said were bought legally. Their names – known only to the rest of America in death – were released by police about the same time as they should have been going home from Covenant School for the day.
Three staff, all half a century older, also died. They were Cynthia Peak, 61, Katherine Koonce, 60, and Mike Hill, 61.
They were all murdered in the place that should be the safest: where kids go to school. But a plague of recent classroom rampages, distinguished even among America's gun violence by their depravity, shows that nowhere is really secure. That's why millions of parents often drop their kids off with a nagging fear about whether their school is next. And it's why a generation of kids has endured active shooter drills that will mark them – just as children halfway through the last century dived under desks in duck-and-cover practices in case of atomic warfare. The difference now is that the danger comes not from a foreign nuclear rival but from within.
Firearms are the leading cause of death in American kids aged 1 to 19, according to the Kaiser Family Foundation based on 2020 data. And while many guns claim kids in violent neighborhoods, not in the classroom, schools seem to be increasingly vulnerable.
According to data from the Gun Violence Archive, the Nashville horror was among at least 130 mass shootings so far this year – more than this point in any previous year since at least 2013. (The GVA, like CNN, defines a mass shooting as one in which at least four people are shot, excluding the shooter.) Such events are now so frequent that there are some cases of people who survived one such event getting caught up in the aftermath of a subsequent one.
Ashbey Beasley, who escaped the July Fourth mass shooting last year in Highland Park, Illinois, was visiting Tennessee on a family trip when Monday's shooting occurred. She made an unannounced appearance on live television and asked, "How is this still happening? Why are our children still dying?"
Revealing another tragic web of gun violence consequences, Beasley later told CNN's Erin Burnett that she had arranged to have lunch with a friend whose son was killed in a mass shooting at a Waffle House in Antioch, Tennessee, five years ago, who called her to let her know her living son was in lockdown in a Nashville school because of Monday's mass shooting.
"This is where we are at, we have children living through multiple mass shooting (incidents). What are we doing?" Beasley told Burnett. Former President Barack Obama tweeted a video of Beasley's original comments, writing, "We are failing our children."
Monday's shooting in Illinois was so frustrating to people like Beasley because the rituals that followed it were so familiar – and so futile. Everyone knows that they will be going through the same routine again soon. Republican politicians quickly offered "thoughts and prayers" or stayed silent. Their Democratic counterparts demanded gun reform. Calls for an improvement in mental health care, which spring up after every mass shooting, are likely next.
At the White House, President Joe Biden diverted from remarks at a previously scheduled event highlighting the role of women in small business to address yet another school shooting.
"We have to do more to stop gun violence. It's ripping our communities apart, ripping the soul of this nation," the grim-faced president said. Biden made the call for action that is now a defining feature of the ineffective political maneuvering that always follows mass shootings, whether they are in schools in Texas or Tennessee or a supermarket in Buffalo or on a university campus in Michigan.
"I call on Congress again to pass my assault weapons ban. It's about time that we began to make some more progress," Biden said. The president understands perfectly that such a step was impossible in the past Congress and will be in the present one, where Republicans control the House and Democrats are still well short of 60 votes in the Senate. A presidential call for action has almost become a custom of mourning as much as a plea for political coalition building. Biden will likely be doing something similar again very soon.
One of the top Senate Republicans, Sen. John Cornyn of Texas, quickly tamped down any ideas that the deaths of three small kids and three adults who looked after them would make any political difference. "I would say we've gone about as far as we can go – unless somebody identifies some area that we didn't address," Cornyn told CNN.
The Texas Republican was a vital player in passing bipartisan gun legislation last year despite some fierce opposition from gun rights activists in his home state. The new law, which was the most significant federal firearms reform in decade, followed the horrific shooting at Robb Elementary School in Uvalde that killed 21 people. While it doesn't ban any weapons, it includes measures offering states more incentives to fund red flag laws, which allow courts to temporarily seize firearms from anyone believed to be a danger to themselves or others. This was all a fragile Senate coalition could bear.
Despite his previous role, Cornyn also expressed some frustration with Biden's remarks. "The president just keeps coming back to the same old tired talking points. So he's not offering any new solutions or ideas. If he does, I think we should consider them, but so far, I haven't heard anything."
In one sense, Cornyn – who predicted no action on guns until at least the next election – was simply stating the facts. Biden does call for an assault weapons ban after most mass shootings. But to hear such a suggestion described as "tired talking points" is still jarring after Monday's shooter was carrying two AR-style weapons and killed six people.
The Texas senator also encapsulated the reality, frustration and limitations of the guns debate. He said that such bans would affect "law-abiding citizens" adding, "I don't believe those law-abiding citizens are a threat to public safety."
Cornyn is right that most Americans who own such firearms never infringe the law, use their weapons recklessly or much less launch mass shootings. But at the same time, some of these weapons designed for the battlefield have the capacity to cause enormous carnage in just a few moments. The assailants that open fire with them in schools, shopping malls or bars have sometimes been law-abiding until their attacks.
The political argument on guns is essentially about the rights of which Americans take priority. Is it those of citizens who own such weapons, even though a tiny minority of them use them to create mayhem and murder? Or should it be the victims of gun crime, like those kids and adults gunned down in Nashville, who had their rights to life, liberty and the pursuit of happiness eradicated in a few seconds of terror?
A political tragedy underlies many of these mass shootings. In a bitter political climate, where any attempts at gun legislation are portrayed as an attempt to illegally snatch away firearms, there is no reachable common ground between upholding the constitutional right to bear arms and the wishes of many Americans who want stricter gun laws.
The late Supreme Court Justice Antonin Scalia, a hero of the conservative movement, wrote in the Heller opinion in 2008 that it was permissible for the government to regulate firearms while remaining faithful to the Second Amendment. He wrote that the right secured by the amendment was not "a right to keep and carry any weapon whatsoever in any manner whatsoever and for whatever purpose."
That's a position that has long been overtaken by the Republican Party's march to the right – a fact that Cornyn implicitly underscored in his comments.
This lack of any common ground on an issue of deadly importance parallels the wider disconnect in a politically polarized society that increasingly lacks a common cultural understanding.
This political paralysis means that there are almost certainly some young kids going to school as usual on Tuesday morning, who, one day, won't come home after class.
[ad_2]

Source link