[ad_1]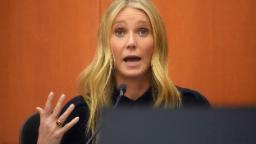 CNN
 — 

Gwyneth Paltrow, the award-winning actress facing a civil trial for a 2016 skiing crash at a Utah resort, testified that she "froze" when a man allegedly skied directly into her back, causing them to collapse to the ground as their skis tangled together.
Paltrow testified on Friday that the collision forced her legs apart as she felt someone from behind her.
"I was skiing, and two skis came between my skis, forcing my legs apart. And then there was a body pressing against me. And there was a very strange grunting noise. So, my brain was trying to make sense of what was happening," Paltrow testified. "I froze when he slid between my skis. I absolutely froze."
"I was confused at first, and I didn't know exactly what was happening. It's a very strange thing to happen on the ski slope," Paltrow continued.
Paltrow and the man both fell slowly and were nearly spooning once they hit the ground, "and I moved away quickly," Paltrow said previously in a deposition read during the trial Friday in Park City, Utah.
Friday marked the fourth day in the skiing crash case against Paltrow, who is being sued by Terry Sanderson, a 76-year-old retired optometrist – the man she maintains crashed into her in February 2016 at Deer Valley Resort in Park City.
Meanwhile, Sanderson claims that Paltrow crashed into him and caused him lasting injuries and brain damage while they were both skiing on a beginner's run. Sanderson also accuses Paltrow and her ski instructor of skiing away after the incident without getting him medical care.
Kristin A. VanOrman, an attorney representing Sanderson, questioned Paltrow for nearly two hours Friday. At one point, VanOrman asked whether Paltrow can demonstrate the crash with her in at the courtroom, but the judge declined that request.
Instead, VanOrman walked around the courtroom trying to reenact where the skis were and how Paltrow and Sanderson were positioned, based on how Paltrow described the incident.
VanOrman asked Paltrow whether the actress had been present when paperwork about the crash was filled out, and Paltrow said she was not but that her ski instructor stayed with Sanderson and made sure he was OK.
Later, Paltrow said she stayed on the mountain "long enough for him to say that he was OK" and to stand up, saying it was "absolutely not" a hit-and-run.
Paltrow didn't seek medical treatment after that crash, she said, but she pointed out her knee felt like it had been "over-stretched" and her "back hurt" and decided to go for a massage later that day.
Sanderson had initially sued Paltrow for $3.1 million dollars, later amending his complaint to seek more than $300,000 in damages, according to court documents.
Paltrow has filed a counter lawsuit in which she is seeking $1 in damages plus attorneys' fees.
Court is slated to resume Monday.
VanOrman pressed Paltrow more than once about whether the actress had sought information about Sanderson's medical condition following the crash.
"I think you have to keep in mind when you're the victim of a crash, right, your psychology is not necessarily thinking about the person who perpetrated it," Paltrow testified.
Paltrow also did not ask anyone at the resort about Sanderson "because at the time I did not know that he had sustained injuries like that. I thought it was very minor on the day," she said.
Throughout the testimony, Paltrow maintained that Sanderson skied into her and that she did not cause the crash.
"Mr. Sanderson categorically hit me on that ski slope, and that is the truth," adding that she feels sympathetic for him.
"I feel very sorry for him. It seems like he's had a very difficult life, but I did not cause the accident so I cannot be at fault for anything that subsequently happened to him," she testified.
The collision happened on the first day of a family trip that Paltrow, her now-husband Brad Falchuk and both of their children were attending. It was the first time Paltrow and her then-boyfriend were introducing their children to each other to gauge whether they had a future as a "blended family."
According to Paltrow's countersuit, she "was enjoying skiing with her family on vacation in Utah, when Plaintiff – who was uphill from Ms. Paltrow – plowed into her back. She sustained a full 'body blow.' Ms. Paltrow was angry with Plaintiff, and said so. Plaintiff apologized. She was shaken and upset, and quit skiing for the day even though it was still morning."
[ad_2]

Source link