[ad_1]

A version of this story appeared in the March 31 edition of CNN's Royal News, a weekly dispatch bringing you the inside track on Britain's royal family. Sign up here.

Hamburg, Germany
CNN
 — 

Another week, another royal trip. This week, we joined King Charles and Queen Consort Camilla as they embarked on their historic first joint state visit abroad.
Chaotic scenes of civil unrest pushed the French government to pull the plug on the first leg of the trip, which had been due to start in Paris on Sunday.
Instead, the royal couple flew into Berlin on Wednesday afternoon with two Luftwaffe Typhoon jets escorting the flight as it entered German airspace. Having traveled on a fair few royal flights over the years, we can't remember a time when the aircraft received such a reverential welcome. But it should have tipped us off that Germany was going to pull out all the stops in the days ahead.
There was a clear structure to the trip, with day one focused on pomp and pageantry, day two concentrated on politics and the final day centered around reconciliation and the future. The overarching theme illustrated the unshakable bond between the two nations. The royal couple certainly had a packed schedule, but there were a few engagements focused on Ukraine and the environment that spoke to their priorities.
"In the long and remarkable story of our two countries, there are many chapters yet unwritten. Let us fill these with the restless pursuit of a better tomorrow. The legacy of our past, and the great promise of our future, demand nothing less," Charles said Thursday while making history as the first British monarch to address the German parliament while it was in session.
By Friday, the weather had taken a turn, but that didn't dampen spirits. Hundreds of well-wishers braved wet conditions for hours ahead of the pair's arrival from Berlin at Hamburg Dammtor station at lunchtime. Their patience was rewarded when the King and Queen Consort greeted members of the crowd after viewing the nearby Kindertransport Memorial, a sculpture that commemorates the 1938 rescue of about 10,000 Jewish children from the Nazis by evacuating them to Britain.
The crowds only got bigger as the day went on. Massive numbers turned out at the city's town hall. While in Germany's northern port city, Charles and Camilla also visited St. Nikolai Memorial Church, which was destroyed during World War II. In July 1943, Allied forces began an aerial bombing campaign of Hamburg, Operation Gomorrah. In just eight days, 42,000 civilians were killed and 37,000 were injured.
This was always going to be a historic trip for the new British sovereign, but he was under a lot of pressure to get it right. There could be no distractions or slip-ups, especially after the French portion of the trip was scrapped. In the end, it was a faultless visit.
Charles didn't hold back or shy away from traumatic experiences, both historical and more recent, for the two nations. Given their shared history, there could have been some awkwardness, but he instead acknowledged the complex Anglo-German relationship.
The targeted diplomatic efforts will be welcomed back home by UK Prime Minister Rishi Sunak, whose government sent Charles on his inaugural state visit. He will have been keen to see if deploying the King's soft power diplomacy could help reset relations with European partners post-Brexit.
The strategy seems to have paid off. Charles was well received by politicians and the public alike. He was praised in local media, particularly for his firm grasp of the German language.
Many had wondered how Charles would fare on the world stage when he became King, after spending more than seven decades as prince and heir to the throne. This week marked the first opportunity we've had to see him interacting as head of state overseas. He showed how adept he is in wielding soft power and being a unifying diplomatic force and representative for Brand Britain.
With contributions from CNN's Nadine Schmidt and Cristiana Moisescu.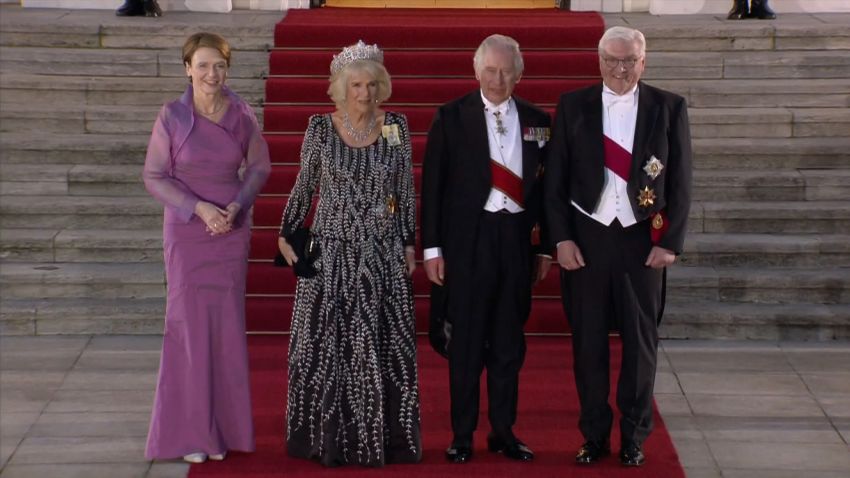 Hear what Germans think of King Charles III during his visit
The trip may have been truncated but Charles and Camilla still managed to complete an impressive number of engagements in two cities in two and a half days. Here's a look back at some of the best bits:
In pictures: King Charles III's first overseas visit as monarch
While all eyes have been on the British monarch and Queen Consort in Europe, earlier this week the Duke of Sussex made a surprise appearance at London's High Court. With this believed to be his first trip home since attending the late Queen's funeral in September, Prince Harry was in town as his legal action against a UK newspaper publisher got underway. The duke, along with several high-profile individuals including Elton John and his husband, David Furnish, are suing Associated Newspapers Limited for "gross breaches of privacy."
Allegations include planting listening devices in claimants' homes and vehicles, bugging phone calls, and paying police for information. The publisher has vehemently denied the allegations and was this week trying to get the case thrown out in a pre-trial hearing. Proceedings concluded on Thursday and now it's up to the judge to decide whether the case should proceed. He did not give a timeline for a decision and said that any draft judgments made in the future will have very limited circulation, given the high-profile nature of the case.
In a toast during the lavish state banquet held in his honor on Wednesday night, Charles paid tribute "to Germany's extraordinary hospitality in hosting over one million Ukrainian refugees." The monarch said it "so powerfully demonstrates the generosity of spirit of the German people."


[ad_2]

Source link