[ad_1]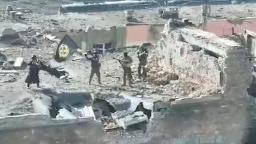 The whole of Ukraine is traumatized since Russia's invasion last year, according to Ukraine's Deputy Foreign Minister Emine Dzhaparova.
Speaking to CNN's Christiane Amanpour from Kyiv, Dzhaparova said she thinks "a long-term process of recovery will be happening after the resolution of war," but added that "at this stage of the war it's still an existential matter of survival so we need to survive physically and after that, we can speak about the mental recovery." 
"You never know how it might be triggered," Dzhaparova said of the mental toll of the war. "I can speak on behalf of myself saying that, for example, the first time I allowed myself to cry since the very start of the full-fledged invasion in two weeks after when my suitcase with my belongings came from Kyiv to the western part of my country and I just — you know — it happened in a moment when I touched my dresses and my pants because I was not able to buy anything because of the curfew and martial law. All shops were closed." 
The deputy minister told CNN she has seen her two daughters, who are abroad, only three times since the invasion. 
The four main battlefields, according to Dzhaparova, are Lyman, Mariinka, Avdiivka and Bakhmut.  
The situation in Bakhmut is "still terrible," she said.   
"It's still a question what will be the outcome, but I can tell you for sure that the armed forces of Ukraine has proved its capability. Even though we can hear some questions and voices that Russians might accomplish their goals in Bakhmut, but I think that in order not to allow this to happen we have to follow several elements, which is the shipment of needed weapons, not only ammunition but artillery systems and shells that we really critically need." 
Approximately 17% of Ukrainian soil is "still under occupation," down from what she said was 20% at the beginning of the invasion.  
[ad_2]

Source link