[ad_1]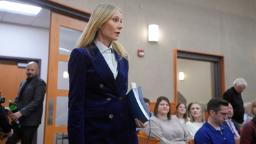 CNN
 — 

A juror who served on the civil trial relating to a 2016 ski collision involving Gwyneth Paltrow said "it took us less than 20 minutes to say Gwyneth was not at fault."
Terry Sanderson, a retired optometrist, had sued Paltrow, an Oscar-winning actor and entrepreneur, over injuries he said he sustained when the two collided at the Deer Valley Resort in Park City, Utah more than seven years ago.
On Thursday, the jury in the trial found Paltrow was not liable and also ruled in her favor in her counterclaim against Sanderson.
Sam Imrie, a member of the eight-person jury, said they were quickly in agreement that Paltrow was not at fault but deliberated for about two and a half hours to go through the nine questions on the verdict form.
"It was really interesting to see that we were all on the same page," Imrie told CNN's Alisyn Camerota on Friday.
Paltrow testified during the trial that it was Sanderson who skied into her back as she was down slope from him. Though the jury agreed Paltrow was not liable, Imrie said it was hard to say Sanderson was at fault as "it seems like just an accident."
Imrie said she found Paltrow's testimony credible. Expert witness Dr. Irving Scher really "brought it home" for her, Imrie said, when he testified Paltrow's version of events "was the most likely."
Paltrow did not speak with reporters after the trial, but released a statement via her attorneys.
"I felt that acquiescing to a false claim compromised my integrity," Paltrow said in her statement. "I am pleased with the outcome and I appreciate all of the hard work of Judge Holmberg and the jury, and thank them for their thoughtfulness in handling this case."
[ad_2]

Source link