[ad_1]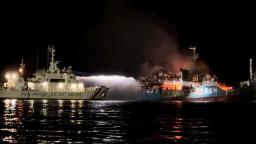 Hong Kong
CNN
 — 

At least 28 people were killed Wednesday night after an inter-island ferry caught fire in the southern Philippines, with many of the 250 passengers jumping overboard into dark waters trying to escape the blaze, authorities said.
The Philippine Coast Guard said Thursday that search and rescue efforts are ongoing after the fire broke out on the MV Lady Mary Joy 3 at around 11 p.m. local time as it sailed southwest from Zamboanga province to Jolo, Sulu province.
Around 35 passengers jumped off the vessel after they heard an explosion, Arsina Kahing-Nanoh, a municipal mayor in Basilan province told CNN affiliate CNN Philippines.
Basilan residents went to shore to try and save those that jumped off the ship after seeing from afar that the vessel had caught fire and was heading toward their remote island, she said.
"Some of the passengers had burns on their bodies," she told CNN Philippines.
Dramatic videos released by the Basilan provincial government show the ship ablaze as it reaches the shore, while a crowd of residents tries to save survivors from the wreckage.
Gray smoke was still seen coming from the ship after the fire was put out on Thursday morning.
The Philippines, an archipelago of more than 7,600 islands, has a poor maritime safety record and vessels in the Southeast Asian country are often old and overcrowded.
In May last year, at least seven people died when a high-speed ferry carrying 134 people caught fire about 60 kilometers (37 miles) east of the capital Manila.
Earlier this month, a tanker carrying 800,000 liters (211,340 gallons) of industrial fuel oil sank in Oriental Mindoro province southwest of Manila, polluting the shores of at least three provinces and threatening the country's diverse marine life.
[ad_2]

Source link