[ad_1]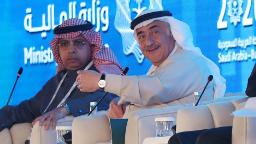 London
CNN
 — 

The chairman of Credit Suisse's largest shareholder, Saudi National Bank, has resigned less than two weeks after comments he made about the Swiss lender accelerated a plunge in its share price.
The bank was rescued four days later after a crisis of confidence among investors and customers took it to the brink of insolvency.
Ammar Al Khudairy had resigned "due to personal reasons" and would be replaced by CEO Saeed Mohammad Al Ghamdi, Saudi National Bank said in a statement Monday.
During an interview with Bloomberg TV on March 15, Al Khudairy ruled out increasing the bank's stake in Credit Suisse. Such a move would've helped shore up confidence in the beleaguered bank, which was facing renewed pressure on its share price amid turmoil in the sector sparked by the collapse of America's Silicon Valley Bank.
"The answer is absolutely not, for many reasons outside the simplest reason, which is regulatory and statutory," Al Khudairy said. That was in response to a question on whether Saudi National Bank was open to further equity injections into Credit Suisse if there was a call for additional funds.
Following the comments, the Swiss lender's stock plunged to the lowest level on record and the cost of insuring its debt surged, all but wiping out the value of Saudi National Bank's investment.
Less than 24 hours later Credit Suisse borrowed $54 billion from Switzerland's central bank. But the emergency lifeline was insufficient to stop clients withdrawing deposits at a rate of more than $10 billion a day, ultimately leading to the bank's historic rescue by larger rival UBS through a government-brokered deal.
Saudi National Bank, which is 37%-owned by Saudi Arabia's sovereign wealth fund, acquired a 9.9% stake in Credit Suisse in October for $1.5 billion, making it an anchor investor in the bank's turnaround plan. By March 17, not even five months later, the Swiss lender had lost around 60% of its market value, erasing the lion's share of Saudi National Bank's investment.
Had the bank increased its shareholding in Credit Suisse beyond the 9.9% level, it would have been subjected to additional regulatory obligations.
"If we go above 10%, all new rules kick in whether it be by our regulator or the Swiss regulator or the European regulator," Al Khudairy said in the Bloomberg TV interview.
"We're not inclined to get into a new regulatory regime. I can cite five or six other reasons, but one reason is there is a glass ceiling and we're not going to entertain going beyond it," he added.
[ad_2]

Source link