[ad_1]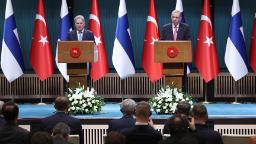 CNN
 — 

Turkey has finally approved Finland's application to join NATO, putting an end to months of delays while also continuing to block Sweden from joining the military alliance.
The Turkish Parliament voted unanimously in favor of Finland's membership on Thursday, clearing the last hurdle in the accession process. The vote fulfills Turkey's President Recep Tayyip Erdogan's "promise" to allow Finland in the defense alliance.
Finland and Sweden had for decades committed to non-alignment with NATO as a way of avoiding provoking Moscow. However, that changed when the Russian President Vladimir Putin ordered his troops into Ukraine and forced the two Scandinavian countries to re-evaluate their neutral status.
Turkey was the last of NATO's 30 members to approve Finland's membership, although Hungary only did so on Monday.
Turkey had stalled the approval process after accusing both countries of housing Kurdish "terrorist organizations." In late February, NATO chief Jens Stoltenberg said that although Turkey had expressed some concerns about both Sweden and Finland's applications, it was predominantly concerned by that of Sweden.
[ad_2]

Source link