[ad_1]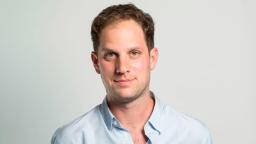 CNN
 — 

American journalist Evan Gershkovich made a pointed observation last year following the arrest of prominent Russian opposition figure Ilya Yashin.
"Reporting on Russia," he wrote, "is now also a regular practice of watching people you know get locked away for years."
Those words have a terrible resonance today, following the arrest of Gershkovich in the Russian city of Yekaterinburg. The Federal Security Service, Russia's domestic intelligence agency, claimed Thursday that Gershkovich had been trying to obtain state secrets, a charge that could potentially mean a lengthy prison term. A district court in Moscow said Thursday that Gershkovich would be detained until May 29.
The Wall Street Journal has categorically denied the allegations, calling Gershkovich a "trusted and dedicated reporter." Gershkovich's many friends have rallied to his defense. And the White House called Russia's espionage claims "ridiculous."
But the Kremlin has already succeeded on two fronts: The move sends a chill through Russia's foreign press corps, and further sharpens a confrontation with Washington.
On Friday, Kremlin spokesman Dmitry Peskov said accredited foreign journalists could continue to work in the country, when asked about the Journal's editorial board urging the Biden administration to consider diplomatic and political retaliation against Russia.
"All foreign journalists who have valid accreditation here can and continue their journalistic activities in our country," Peskov said. "They don't face any restrictions and work fine."
That bland statement, of course, contains a brazen untruth. Russia has cracked down extensively on its few remaining press freedoms since the full-scale invasion of Ukraine last year, particularly with the passage of a law that makes it a crime to disseminate "fake" information about Russia's so-called "special military information" or discredit the Russian military (Yashin, the opposition leader, was sentenced to eight and a half years for spreading "false information" about the war in Ukraine.
The arrest of Gershkovich further tightens the screws. A statement by Russian Ministry of Foreign Affairs spokeswoman Maria Zakharova was particularly noteworthy for anyone who has ever worked as an accredited journalist in Russia.
"Under the cover of journalism, this person was involved in a completely different activity," she said. "There are lots of reports that he had accreditation, therefore he's a journalist. No, No, No … this is what he claims to be."
Let's leave aside the fact that Gershkovich works for a newspaper with some of the most rigorous editorial standards in the world (disclosure: before joining CNN, I was Moscow bureau chief for the WSJ). Such statements are not reassuring: They suggest that anyone working in Russia as a legitimate journalist can be accused of espionage.
The state has already pursued similar charges against Russian journalists: The most famous recent case is that of former defense reporter Ivan Safronov, sentenced last year to 22 years in prison for supposedly disclosing classified information.
The Russian state's ugly, repressive turn has hit ordinary citizens as well as journalists and opposition activists. A Russian court recently sentenced a man whose 13-year-old daughter drew an anti-war picture at school to two years in prison for his own online comments critical of Russia's invasion of Ukraine. After the man was put under house arrest, his daughter was placed in an orphanage.
Condemnations from Washington of Gershkovich's arrest have been swift. Rep. Adam Schiff, a California Democrat who is the former chair of the House Intelligence Committee, told CNN that this latest move should be seen "in concert with their nuclear announcements, the abrogation of their treaty obligations, as a way of just ramping up pressure on the West, signaling that Moscow's going to use whatever tools it has, including essentially hostage-taking, to try to deter the United States and the west from opposing its ambitions in Ukraine."
Schiff was referring to Russian President Vladimir Putin's announcement that he was suspending Moscow's participation in the New START nuclear arms reduction treaty, a declaration he made at a state-of-the-nation address in February. Russia said all nuclear notifications had been suspended — though the US State Department says it has not formally received notice from Russia — further ratcheting up tensions with the US.
President Joe Biden was blunt about the arrest. "Let him go," Biden told CNN's Arlette Saenz at the White House.
But it's unclear what kind of leverage the Biden administration might have over Russia. In December, the US did manage to secure the release of basketball star Brittney Griner, detained last year on what the US described as trumped-up drug smuggling charges, in a prisoner swap for Russian arms dealer Viktor Bout. But the swap did not include another American who the State Department has declared as unlawfully detained, Paul Whelan.
In an email to the press, Paul's brother David said, "Our family is sorry to hear that another American family will have to experience the same trauma that we have had to endure for the past 1,553 days."
It's a bleak assessment of the situation. US-Russian relations keep hitting new lows, but the old wisdom remains true in Russia: бывает и хуже (it can always be worse).


[ad_2]

Source link