[ad_1]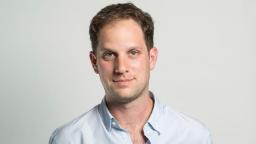 New York
CNN
 — 

The talk between US Secretary of State Antony Blinken and Russian Foreign Minister Sergey Lavrov about detained journalist Evan Gershkovich has been "hugely reassuring," Wall Street Journal Editor-in-Chief Emma Tucker said on CBS' "Face the Nation" on Sunday.
"We know that the US government is taking the case very seriously right up to the top," Tucker said.
Blinken called for the correspondent's "immediate release," along with detainee Paul Whelan.
"Secretary Blinken conveyed the United States' grave concern over Russia's unacceptable detention of a U.S. citizen journalist," a readout from the department said.
Tucker added she hopes the government will take swift action to label Gershkovich as wrongfully detained, saying it will be official recognition that the charges against the reporter are "entirely bogus."
Russian authorities detained the journalist last week, accusing him of spying and trying to obtain state secrets.
The Wall Street Journal knows little about the case, which is one of the biggest problems the outlet is facing, Tucker said. The newspaper has not been able to contact Gershkovich.
When he was arrested, he had a swift hearing with no lawyer or access to US state officials. Though Tucker doesn't have a timeline, she said she is hopeful Gershkovich will be able to see a lawyer next week.
"I'm optimistic that we'll be able to make some sort of contact with him next week," Tucker said. "But who knows?"
Tucker said Gershkovich was an accredited reporter in Russia when asked why he was targeted by authorities, not specifying what he was reporting on in Yekaterinburg, on the eastern side of the Ural mountains. Russian reports claimed he was reporting on the Russian military-industrial complex.
In a statement Thursday, the Wall Street Journal said it "vehemently denies the allegations from the FSB and seeks the immediate release of our trusted and dedicated reporter."
"Face the Nation" host Margaret Brennan noted the newspaper pulled its Moscow bureau chief after the arrest.
"Russia is sending a bad signal that it's not a safe place for journalists, even journalists who are accredited, to work there," Tucker said.
Leaders of more than 30 global news organizations signed a letter Thursday to the Russian Ambassador to the US, Anatoly Antonov, demanding Gershkovich's release.
[ad_2]

Source link