[ad_1]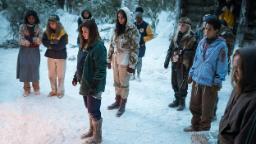 CNN
 — 

If you are among those passengers who boarded Showtime's mystery "Yellowjackets" and couldn't get enough of it, fasten your seat belts for more turbulence in Season 2. As for others unmoved by the slow pace of revelations in the twin-track drama, the first four episodes offer little hope of reaching a clear destination anytime soon.
For the uninitiated, the series hinges on the tale of a girls high-school soccer team whose plane crashed in the wilderness. The narrative flashes back and forth between their plight and the same group (or rather, the survivors) a quarter-century later, each harboring secrets and in some instances emotional wounds regarding what transpired.
The casting remains a formidable asset in both generations, with the older incarnations (played by, among others, Melanie Lynskey, Juliette Lewis, Christina Ricci and Tawny Cypress) each dealing with individual challenges and traumas, including the broader question of who might be trying to blackmail them.
"We did things out there that we're really ashamed of," Lynskey's character, Shauna, says at one point, while grappling with a serious threat in the here and now.
Shades of "Lost," there also seems to have been something vaguely supernatural that unfolded in the woods, and the lengths to which a group stranded and potentially starving might have gone to stay alive – 30 years after "Alive," the fact-based movie about a boys team that resorted to cannibalism under similar circumstances.
Still, "Yellowjackets" (created by Ashley Lyle and Bart Nickerson) appears to be fairly content to luxuriate in its atmosphere while dribbling out what pass for answers, counting upon the strength of the cast and the investment that the audience has already made in the story and characters.
This season also brings several new faces, including Lauren Ambrose and Simone Kessell as the adult versions of Van and Lottie, respectively, and Elijah Wood as a "citizen detective" who becomes entangled with Misty (Ricci). While those additions create other sources of mystery, they do as much to obscure the broader narrative as illuminate it.
Again, that's probably fine for the core contingent, but not so much for the skeptics wondering when the clouds might actually begin to part.
"Lost," notably, made the then-unheard-of decision to announce when it would end several years in advance in order to build toward a finish, and even then mucked it up. If "Yellowjackets" can be credited with navigating that balance in its Emmy-nominated first season, as for how long the producers can keep it going in the current day and age, let's just say the clock's already ticking.
"Yellowjackets" begins its second season March 24 for streaming and March 26 at 9pm ET on Showtime.
[ad_2]

Source link