[ad_1]


Valika Komyshuvaha, Ukraine
CNN
 — 

The first time Oleksandr Havriluk returned to his farm after it had been stormed and occupied by Russian troops, tears rolled down his face when he saw what they had left behind.
His farm buildings were almost completely destroyed, millions of dollars worth of heavy machinery had been left in ruins, and last year's wheat harvest had been incinerated.
But the most pressing problem for Havriluk were the land mines which had been buried across his 12 square miles of surrounding fields.
Now, the 69-year-old is digging them up by hand, in a desperate effort to clear some of his fields before planting season begins in early April.
"I was afraid," Havriluk said. "But I have to sow."
So far, Havriluk says he has removed around 20 mines from his fields in Valika Komyshuvaha, close to the city Izium, using only a metal detector he purchased himself.
"You go, you find it, take a stick, tap it to determine the size, and then you dig it up," he said. "And then you pick it up gently and take it out."
The work is dangerous, he admits, but he adds, "I don't have any other choice."
It's a stark choice that farmers across Ukraine are facing: clear the fields of explosives to prepare for planting season, or contemplate another year without income.
The Russian invasion has already strangled grain exports from Ukraine – one of the world's great breadbaskets – and contributed to soaring prices of staple products like bread and cereals, even with a United Nations-brokered deal which has enabled the passage of Ukrainian ships through the Black Sea.
The Ukrainian military estimates that around a third of the country is currently contaminated by unexploded munitions, endangering this year's harvest by leaving huge areas of fertile land lying dormant due to the deadly remnants of a war still being fought.
In recent months, several farm workers have been hurt or killed working in their fields, including a 65-year-old man who died instantly when he stepped on explosives near the village of Chervone in southern Ukraine, according to local officials.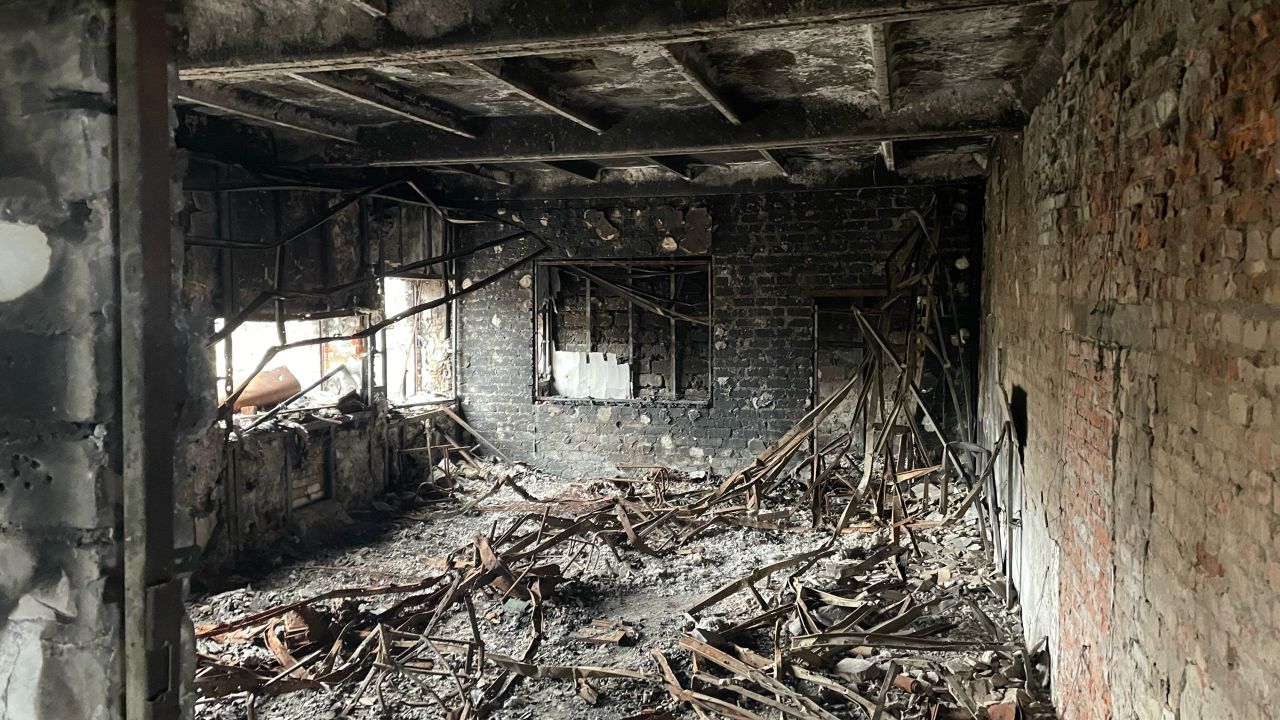 Mine clearance operations are already taking place to clear the fields, but it is slow and expensive work.
Ukrainian Armed Forces sappers have defused 45,000 explosive devices over the year, the military's official media center said.
The HALO Trust, the world's largest mine clearance organization, currently employs 700 staff in Ukraine, a number they're planning to nearly double by the end of the year.
"The scale of contamination is huge, and it's spread across the country," Mairi Cunningham, who runs the HALO Trust demining task force in Ukraine, told CNN.
"The scale of the problem, it's not for one organization, it's a national effort."
As well as ensuring the safety of the people, agricultural land is being made a priority to "ensure that Ukraine can get back on its feet," Cunningham said.
The "greatest challenge" is the lack of pattern, Cunningham said, with different types and density of munitions spread across the vast geographical area of Ukraine – Europe's second-biggest country after Russia.
"We're seeing anti-vehicle mines, both metal and plastic. We're seeing anti-personnel mines," Cunningham said. "We're seeing anti-personnel binding and fragmentation mines on tripwires, grenades on tripwires and we're also seeing cluster munitions."
He said there was no "one-size fits all" approach to the demining effort, which required "bespoke methods," so it was about "being able to train staff appropriately."
Removing them all will take years, Cunningham said, as they usually estimate that one day of war equals several months of clearance work.
And with an active conflict still raging, the operations can only take place away from the front lines of the war, to protect the safety of the sappers and other staff.
But experts are urging farmers not to take matters into their own hands.
"Lifting anti-tank mines is extremely dangerous," Cunningham said. "There's often anti-lift devices designed specifically to kill and injure people who try to do that.'
However, safety warnings won't stop Oleksandr Havriluk from his mission.
He says he built up his farm from scratch over the past 25 years, and he will rebuild again, to ensure the future of his family.
"The most important thing is to clear my fields," he said.
[ad_2]

Source link