[ad_1]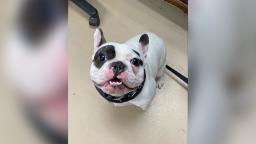 CNN
 — 

Fourth time's the charm for this mischievous pup – hopefully.
Ralphie, who made headlines after a New York animal shelter described him as a "fire-breathing demon," has finally been adopted for the fourth time, according to the shelter.
The Niagara SPCA said in a Friday Facebook post they received more than 700 applications to adopt the adorable but troublesome French bulldog.
They finally honed in on Ralphie's "perfect adopter," a man named Jason who trains dogs professionally for the Department of Energy in Tennessee.
Ralphie will join Jason's pack of other dogs, consisting of another French bulldog, a Dachshund, and a German shepherd.
Although the shelter originally specified Ralphie should go to a family without other dogs, they said through training, the pup was able to get "over his reactivity around other dogs." He was sent to a six-week boarding and training program after a third adoption attempt didn't pan out.
The SPCA explained Jason is "uniquely qualified" to care for Ralphie because two of his dogs also had bite histories, just like Ralphie, before joining his household.
Jason will "provide him with structure, and give him an outlet for all that Frenchie energy," wrote the shelter. "He dedicates his life to dogs and that's what makes him a perfect match for Ralphie."
The "unicorn adopter" has already created a dedicated Facebook and Instagram so fans can follow Ralphie's journey as he acclimates to his new family.
Jason has already posted several updates of life with Ralphie, including photos from a hike he took with the reformed "whole jerk" dog and pictures of the pup chowing down on a bagel.
"We wish our tiny, reformed terror all the best and we look forward to hearing about all of his adventures," wrote the shelter in its Facebook post.


[ad_2]

Source link